The Boilermaker Code
Something has to guide the new generation to move from the old ways to the new ways, and I think this program is absolutely what's needed to give that guiding direction to us new guys. ~ Joey Prince, L-69 (Little Rock, Ark.)
Creating a culture of excellence begins with acknowledging the mistakes of the past and providing a code for all Boilermakers. We're a skilled craft committed to safety on job sites, and not only do we demand it of ourselves, we demand it of those with whom we stand shoulder-to-shoulder. The Boilermaker Code provides direction for building a workforce that is highly skilled, safety-trained and responsible.
A cultural shift designed to provide a reliable, skilled workforce of responsible leaders.
Under the direction of MOST, The Boilermaker Code training offers an in-depth look at how our actions have a direct impact on the future of Boilermakers. The 10-module training course focuses on our past, examines the economic impact and impressions of negative actions, and explores the reality of the current marketplace. It empowers Boilermakers to be leaders on our job sites and helps others reach the ultimate goal of living The Boilermaker Code each day.
All construction Boilermakers will participate in this training, which includes a number of video segments containing true stories as told by fellow Boilermakers and other industry leaders. Retired business managers and International staff were carefully selected to conduct the training and deliver its message.
Since the Boilermaker Code training began, feedback has been overwhelmingly positive. Click here to see what participants have said.
The National Joint Rules and Standards Committee has amended the Uniform Referral Standards and Joint Referral Rules under Article 5 Registration for Grandfathered and Non-Grandfathered Primary List Applicants to include the Boilermaker Code training as a mandatory requirement for applicants wishing to remain on or register for the Primary List, effective December 31, 2022. Click here to read the letter in its entirety.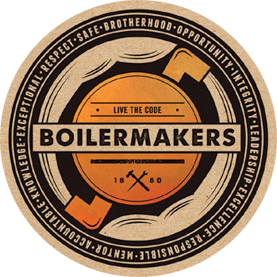 THE BOILERMAKER CREED
I am a Boilermaker.
I am a skilled craftsperson and a member of a team.
I serve my family, my crew, my local, my Union and my employer.
I serve a Brotherhood whose EXCEPTIONAL legacy spans over 130 years.
I honor those who came before me, my MENTORS.
I honor their struggle to provide me with a Union OPPORTUNITY.
I respect their knowledge, leadership and integrity.
I will show up on time, ready to work.
I will give quality work for quality pay.
I will honor the negotiated contract and let my stewards and Union representatives do their jobs.
I will be responsible and accountable for my actions.
I will do it right the first time.
I am an excellent problem solver.
I am a guest at job sites and conduct myself accordingly.
I am constantly learning and sharing that knowledge.
I am always working safely and demand the same from those around me.
I am a guardian of craftsmanship and the Union way of life.
I am a part of a Brotherhood.
I am a Boilermaker.
© 2018 MOST Trust
The Boilermaker Code Gallery
Training Photo Gallery